B&G Step Sister CR Cut. P90 Honey Burst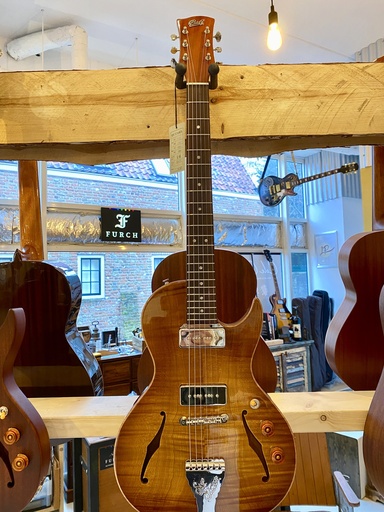 B&G Step Sister CR Cut. P90 Honey Burst
Step Sister CR Cutaway P90
Farbe: Honey Burst
Body: Step Sister Cutaway
Construction: Chambered
Tonabnehmer: P90

De B&G Step Sister CR (Crossroads)-serie is een budgetvriendelijk professionele serie van B&G. 100% designed in Israël en gebouwd in  onder strikte kwaliteitscontrole van B&G in Azië. De gitaren uit de CR-serie van B&G behalen hetzelfde niveau van gevoel, toon en finesse als hun handgemaakte Private Build-modellen, maar dan voor een zachtere prijs.
De B&G Step Sister heeft veel overeenkomsten met de Little Sister qua ontwerp, maar heeft kleine aanpassingen wat de Step Sister uniek maakt. De body is ingekort zodat je de 16e fret bij de hals kan komen, en de toets heeft 22 frets. De hiel is anders gevormd, zodat je tot de laatste fret goede toegang blijft houden.
De door B&G ontworpen pickups projecteren alle punch en definitie waar P90's bekend om staan ​​en leveren een heldere en warme toon, wat resulteert in een zeer muzikaal geluid wat geschikt is voor de meeste genres.
B&G Guitars Step Sister Crossroads Honeyburst
Semi-Hollow Electric Guitar!
Cutaway Model with P-90 Pickups and High gloss Finish!
Following the tremendous success and recognition of the Crossroads Series Little Sister, B&G is proud to introduce their second model in the Crossroads Series – The Step Sister! It shares the same DNA as the Little Sister, but articulates a different vibe. Originally crafted only as a Private Build Custom-Made instrument, the Step Sister is now available for the first time as a Crossroads Series model.
Like all Crossroads Series guitars, the Step Sister Crossroads are built from high quality tone-woods including African Mahogany for body and neck and Mexican Royal Ebony (Katalox) for the fingerboard. Solid brass hardware and a high-gloss finish help maintain the look, resonance, and tonal qualities of the original Little Sister.
On The Step Sister, the body shape is shortened and joins the neck at the 16th fret, and the fingerboard extends to 22 frets. The neck heel has also been slightly reshaped for easier access to the highest registers. The Step Sister is a nimble, agile and sleek machine developed specifically for ease of playability. Because the fingerboard is now longer, the neck pickup is placed slightly close to the bridge for a brighter and more defined tone than on the Little Sister, and a truly beautiful and "hollow" tonal quality when used in conjunction with the bridge pickup.
In order to provide the best possible value, Crossroads series production has been streamlined to include a limited selection of colors and options. However, for the most discerning players, Crossroads pickups, electronic harness, and bridge can all be upgraded to Private Build parts.
The Step Sister Crossroads is a gorgeous, inspirational and enchanting instrument.
ABOUT THE PICKUPS
Both P90 and Humbucker equipped variants of the Step Sister Crossroads offer a rich and balanced tone modeled after their Private Build siblings. For maximum performance and versatility, they are wax-potted to eliminate unwanted squeal and feedback from higher gain settings. While they have are unmistakably vintage-inspired pickups, they do have enough oomph to push your amplifier's front end, producing the just right amount of top end harmonic content.
Optional B&G Private Build pickups are wound by hand and have been optimized to deliver true, vintage-sounding tone. To achieve that additional feel of airy openness, and sensitivity to the acoustic tone, they are not wax-potted by default, but can be ordered with a light potting. They are superb for clean, jazzy/bluesy crunch and mid-gain picking.
The P90 is B&G's seminal design, constructed with Alnico V magnets for a rich tone, embodied in a translucent halo of upper harmonics, and fat, warm bass. Their humbuckers are voiced similar to PAFs with the unmistakable cutting midrange and clear, sweet, trebles. The Kikbucker is another original pickup from B&G for players who love the P90 sound. Kickbuckers feature a stacked bobbin design for hum-cancellation, and deliver a stronger, focused, and powerful tone - all while retaining the typical sound, look and size of a standard P90.
Je dynamische Snippet wordt hier weergegeven... Dit bericht wordt weergegeven omdat je niet zowel een filter als een sjabloon hebt opgegeven om te gebruiken.