Dogal RC152B Acoustic Bass strings round core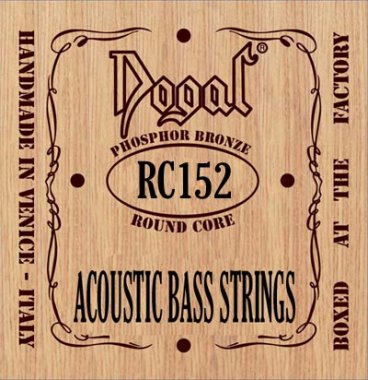 Dogal RC152B Acoustic Bass strings round core
Dogal RC152B Acoustic Bass strings Phosphor Bronze 040 - 060 - 080 - 100 round core

​Dogal RC152B Acoustic Bass strings 040 - 060 - 080 - 100 round core
Acoustic Bass Strings Dogal RC152 Round Core.
Dogal Round Core Acoustic Bass Strings are made with phosphor bronze alloy hand-wound around a round core; they offer a deep and brilliant sound, excellent responsiveness, a high level of sustain and last a long time.
In addition to the exceptional sound quality, the absolute cohesion between the core and the winding means that air cannot penetrate inside the String, maintaing an optimum String vibration and offering an anti-oxidizing seal: another reason why the String stays new longer, plays better
and lasts longer. Available in the versions for 4,5 and 6 string bass.
Details
Product Type: Full Set
Full Set # of Strings: 4
Tension: Light
Full Set Material: Phosphor Bronze
Winding: Round Wound
Core: Round
Full Set by 1st string gauge: 0.040
Full Set by last string gauge: 0.100
Scale Length: Long
Description
Dogal RC152B Phosphor Bronze Round Core Acoustic Bass Strings 40-100
.040 .060 .080 .100
A deep, brilliant sound characterizes these acoustic bass strings. Combine that with excellent responsiveness, strong sustain, and long life and you've definitely got a winner. The strings are handmade in Italy with phosphor bronze alloy wound on a round core.

Je dynamische Snippet wordt hier weergegeven... Dit bericht wordt weergegeven omdat je niet zowel een filter als een sjabloon hebt opgegeven om te gebruiken.